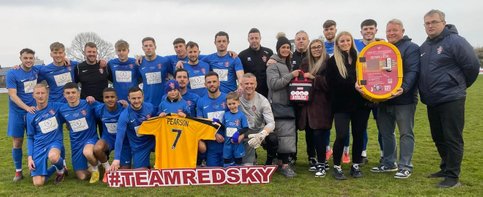 THE CLUB HAVE RECEIVED A COMMUNITY DEFBRILLITOR FROM THE RED SKY FOUNDATION.
THE DEFIBRILLITOR HAS BEEN DONATED IN MEMORY OF FORMER MANAGER GARY PEARSON THROUGH THE EFFORTS OF GARY'S FAMILY AND FRIENDS.
LED BY HIS DAUGHTER MACKENZIE, THEY HAVE BEEN RAISING FUNDS TO PLACE DEFBRILLITORS AT CLUBS GARY WAS ASSOCIATED WITH DURING HIS PLAYING AND MANAGERIAL CAREER.
THE DEFIBRILLATOR WILL BE FIXED TO THE OUTSIDE OF THE CLUBHOUSE SO THAT IT IS AVAILABLE 24/7 TO THE LOCAL COMMUNIITY - ACCESS VIA A KEYCODE WHICH IS GIVEN BY EMERGENCY SERVICES WHEN REQUIRED.
CHAIRMAN KEVIN CLOSE SAID, "GARY WAS A BIG PERSONALITY AND WILL REMAIN A PART OF BILLINGHAM TOWN THROUGH THIS INCREDIBLE DONATION.
"MANY THANKS TO EVERYONE AT #TEAMREDSKY FOR THIS INCREDIBLE DONATION."
MORE INFORMATION ON THE RED SKY FOUNDATION CAN BE FOUND ON THEIR WEBSITE HERE AND KEEP UP WITH OTHER DONATIONS USING THE HASHTAG #TEAMREDSKY ON SOCIAL MEDIA.
UTT