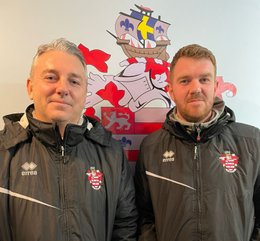 WE ARE PLEASED TO ANNOUNCE THAT PAUL WARDLE AND CHRIS BAKER HAVE BEEN APPOINTED AS JOINT MANAGERS OF THE FIRST TEAM.
PAUL IS ALREADY WELL KNOWN TO THE SQUAD, HAVING PREVIOUSLY BEEN ASSISTANT TO GARY PEARSON AT RYHOPE CW FOR MANY YEARS. HE LATER TOOK ON THE RUNNING OF THE RYHOPE CW DEVELOPMENT TEAM, DEVELOPING AND BRINGING THROUGH PLAYERS LIKE LUKE SPALDING TO THE FIRST TEAM.
CHRIS IS ALSO WELL KNOWN AMONGST THE PLAYERS AS MANAGER OF PETERLEE CC, FINDING HUGE SUCCESS IN SUNDAY FOOTBALL.
CHAIRMAN KEVIN CLOSE SAID, "I'M DELIGHTED THAT PAUL AND CHRIS HAVE JOINED THE CLUB.
"WE HAD A VERY HIGH STANDARD OF APPLICANTS, BUT OUR NUMBER ONE PRIORITY AT THIS TIME WAS TO SEE MINIMUM DISRUPTION AS WE CONTINUE OUR PUSH FOR PROMOTION BACK TO THE FIRST DIVISON.
"PAUL AND CHRIS ARE WELL KNOWN AND RESPECTED BY THE MAJORITY OF THE SQUAD SO WE EXPECT TO SEE A SMOOTH TRANSITION AND KEEP THE SIDE TOGETHER."
PAUL AND CHRIS MET WITH PLAYERS AT TONIGHT'S TRAINING SESSION AND WILL BE IN THE DUGOUT FOR SATURDAY'S GAME AT HOME TO BLYTH TOWN