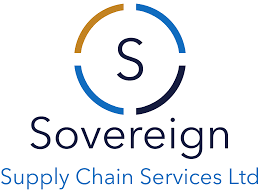 AS PART OF OUR ON-GOING PARTNERSHIP WITH SOVEREIGN SUPPLY CHAIN SERVICES LTD, WE ARE PLEASED TO ANNOUNCE THAT OUR BEDFORD TERRACE GROUND HAS BEEN RENAMED.
TUESDAY 01ST SEES OUR FIRST HOME GAME OF THE 2023-24 SEASON, AND WE'LL BE PROUD TO WELCOME YOU TO THE SOVEREIGN SUPPLY CHAIN SERVICES LTD STADIUM.
THE SIGNIFICANT SPONSORSHIP DEAL HAS ALREADY SEEN BOTH THE HOME AND AWAY KITS EMBLAZONED WITH THE SOVEREIGN SUPPLY CHAIN SERVICES BRANDING, AS WELL AS PERIMITER BOARDS AND MEDIA OUTPUT.
CHAIRMAN KEVIN CLOSE SAID, "I EXTEND MY SINCERE THANKS TO KRIS MARSAY AND MATTHEW BRUCE FROM SOVEREIGN ON BEHALF OF OUR ENTIRE CLUB, ITS SUPPORTERS, AND THE WIDER COMMUNITY. THIS PARTNERSHIP ENABLES US TO CONTINUE PROVIDING TOP CLASS FACILITIES IN BILLINGHAM AS WELL AS PROVIDING ENTERTAINMENT TO THE SUPPORTERS, AND NURTURING LOCAL TALENT."
KRIS MARSAY AND MATHEW BRUCE SAID, "WE ARE DELIGHTED TO WIDEN OUR SUPPORT FOR THE CLUB AND TO HAVE THE GROUND BRANDED THE SOVEREIGN SUPPLY CHAIN STADIUM IS A GREAT PRIVILEGE FOR US".