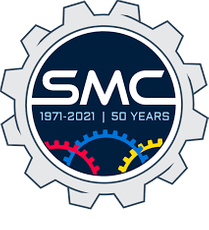 WE ARE PLEASED TO ANNOUNCE OUR LATEST PARTNERSHIP WITH STOCKTON MACHINE COMPANY LTD, WHO WILL BE SPONSORING THE FIRST TEAM TRACKSUITS FOR THE UPCOMING 2023-24 SEASON.
STOCKTON MACHINE COMPANY LTD, A LEADING PLAYER IN THE INDUSTRIAL MACHINERY INDUSTRY, HAS EXPRESSED ITS COMMITMENT TO SUPPORTING GRASSROOTS FOOTBALL AND THE LOCAL COMMUNITY.
THE NEW TRACKSUITS, PROUDLY DISPLAYING THE STOCKTON MACHINE COMPANY LTD LOGO, WILL BE WORN AT ALL FIRST TEAM GAMES THROUGHOUT THE 2023-24 SEASON.
CHAIRMAN KEVIN CLOSE SAID, "WE ARE THRILLED TO WELCOME STOCKTON MACHINE COMPANY LTD AS OUR OFFICIAL TRACKSUIT SPONSOR FOR THE 2023-24 SEASON,
"THEIR GENEROUS SUPPORT WILL UNDOUBTEDLY PLAY A CRUCIAL ROLE IN OUR TEAM'S SUCCESS ON AND OFF THE FIELD."
ABOUT STOCKTON MACHINE COMPANY LTD:
DELIVERING BESPOKE ENGINEERING SOLUTIONS. FROM MACHINED COMPONENTS TO REPLACEMENT OEM PARTS. SMC PROVIDE COST EFFICIENT, RAPID TURNAROUND SOLUTIONS TO INDUSTRY.
STOCKTON MACHINE COMPANY HAS BEEN PROBLEM SOLVING IN THE CHEMICAL, OFFSHORE, SUBSEA, RENEWABLE, PHARMACEUTICAL AND FOOD PROCESSING SECTORS FOR OVER 50 YEARS. DURING THIS TIME, WE HAVE ESTABLISHED A REPUTATION FOR QUALITY, RELIABILITY, VERSATILITY AND SERVICE. A SKILLED WORKFORCE BACKED BY A MANAGEMENT TEAM, THAT FULLY UNDERSTANDS THE PROBLEMS OF SPECIALISED MACHINERY, OPERATES FROM A FACTORY EQUIPPED TO HANDLE ALL OF YOUR MACHINING REQUIREMENTS.
WWW.STOCKTONMACHINE.CO.UK