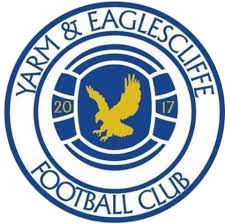 THE CLUB CAN ANNOUNCE THAT WE HAVE ENTERED IN TO A 3 YEAR GROUNDSHARE AGREEMENT WITH YARM & EAGLESCLIFFE FC.

FORMED IN 2017, THEY CURRENTLY PLAY IN THE NORTH RIDING LEAGUE PREMIER DIVISION. PLAYING SATURDAY AFTERNOONS, THEY'LL USE BEDFORD TERRACE AS THEIR HOME GROUND AS THEY PUSH FOR PROMOTION TO THE NORTHERN LEAGUE
CHAIRMAN KEVIN CLOSE SAID, "WE'VE HAD SEVERAL MEETINGS IN RECENT WEEKS WITH YARM & EAGLESCLIFFE WHICH HAVE BEEN VERY POSITIVE.
"THEY HAVE A GREAT GROUP OF PEOPLE RUNNING THE CLUB AND IT WILL BE A PLEASURE TO HOST THEM AT BEDFORD TERRACE FOR THE FORSEEABLE FUTURE.
"AFTER THE DEPARTURE OF MIDDLESBROUGH WOMEN FROM BEDFORD TERRACE IN THE SUMMER, THE BOARD FELT THAT WE WOULD BE ABLE TO ACCOMODATE AN ADDITIONAL ADULT TEAM.
"HAVING LOOKED AT THE PROPOSALS AND MEETING THOSE INVOLVED, IT WAS AN EASY CHOICE; THEY'LL BE A GREAT BENEFIT TO THE CLUB.
"WE LOOK FORWARD TO WORKING CLOSELY WITH YARM & EAGLESCLIFFE AND HOPE EVERYONE AT BILLINGHAM WILL GIVE THEM A WARM WELCOME."
YARM & EAGLECLIFFE'S FIRST HOME GAME WILL BE THIS SATURDAY 17TH SEPTEMBER WHERE THEY FACE ST MARYS FC AT 2PM, WHILST TOWN WILL BE AWAY TO CHESTER-LE-STREET TOWN.
A FULL LIST OF YARM & EAGLESCLIFFE FC FIXTURES CAN BE FOUND HERE
#UTT